I love trying out challenges... This month, apart from usual monthly challenges, The Studio is hosting a special event called
Christmas Forum Fun
. I don't celebrate Christmas, but I can't resist the urge to join some of fun challenges here.
First, I started with
Sing me a Song
hosted by Karen from
SnickerdoodleDesign
. The rules are simple : scrap a Christmas Carol of your choice, includes at least 50% lyric, and additional photos are welcome. This is the page I created using Visit to Santa kit by Marie H Designs soon to be released on 16 December 2011. I'm combining my Creative Team job with participation in challenge here...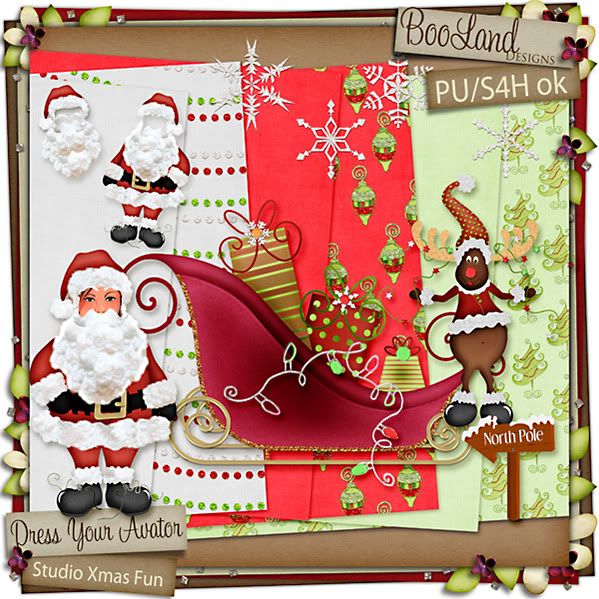 Next,
Dress up your Avatar
hosted by Boo from
Booland Design
. Here is her explanation about this Avatar Contest :
What better way to kick off the Festive Celebrations then with an Avatar Contest!
What to do:
Make yourself a new avatar to show off in the forum with a Christmas theme! Put it on and post back here in this thread to show it off and enter the competition. ETA: Avatars are a maximum of 150x150 px. and 20 KB.

Deadline:
You must post here wearing your new avatar no later than 11:59 EST, Saturday 24th December.

Winners:
The Studio Designers and Admin will vote for winners in the following three categories: Funniest, Most Creative, Most Festive (ie: best exemplifies the Christmas theme). Our winners will be announced on Thursday 29th December and each winner will receive a coupon for a Booland Page Kit of their choice.


To help us out, she has made a mini kit that we may choose to use when creating our avatar. We do not have to use it, instead we may use anything in our stash (75% products from The Studio, please). And this image on the left is my Avatar! I change the reindeer face with mine... hahaha... what do you think?
Last, I decided to give 12 Days of Christmas Progressive Scrap a go. This is the first time I ever joined Progressive Scrap hosted by
Min
. I will cover about it when I've finished day 12 :)....
I surely hope I can follow all the instructions for whole 12 days without missing anything!